Interior Painting & Custom Faux Finishing For Superior Design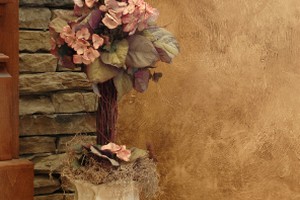 A home is painted to bring in a fresh new design. If you are considering repainting your interior, don't just paint the walls. A professional who specializes in faux finishing can bring you superior results by painting the millwork too.
The millwork in your home includes pieces such as molding, doors, window casings, fireplace mantles, cabinets, paneling, and decorative wood components.
There are a number of techniques that can be used in faux finishing, so you have plenty of choices. This very cost-effective process changes the interior into an elegant design that looks very expensive.
Custom Millwork Bamboo Finishing
Bamboo has been making its way into homes as a favorite due to its eco-friendly materials and beauty. You may want to have a professional painter and home repair specialist create this faux finish to cover the old, boring wood finishes in your home.
You can create a faux finish on millwork even if the wood is made of a different species or material. It's perfect for cabinetry, bookshelves, molding, paneling, and trim work. The faux finish can look like any wood species you prefer.
Soft, Earthy Paint Colors Are In
2016 design trends lean toward natural, soft tones in paint colors. 2017 will continue the trend. Calming rooms touched with interesting wood finishes offer relaxing places to get away from all the clutter and hub-bub in life. As our lives get busier and more complicated, we look for ways to relax. What better place to create a relaxing atmosphere than in our homes?
Choose soft colors for the kitchen, bathroom, living room, and other rooms in your home. Keep the design simplistic but interesting with custom faux finishes.
Faux Finishing On Cabinets
Instead of tearing out and replacing those kitchen cabinets, hire a faux finishing expert to create a new design. Your kitchen cabinets can look like real hardwoods when you choose the right interior painting contractor in Spencer at Custom Design Coatings LLC.
Faux Finishing On Walls
Need an accent wall? Try a custom faux finish instead of a color that pops. Textured stone finishes are really attractive and eye catching. Faux Venetian Plaster is another popular option for accent walls.
Want walls that look like marble, brick, granite, metal, or tile? This can be done with faux finishing. Custom stenciling can also be done. With the right interior painting contractor, just about anything can be created for you in a faux finish. What are your ideas?
If you have questions or would like to know more about our expert Spencer, IA Interior Painting Contractors at Custom Design Coatings LLC, please call 712-264-0404 or complete our online request form.