Don't Forget The Wood Staining & Finishing!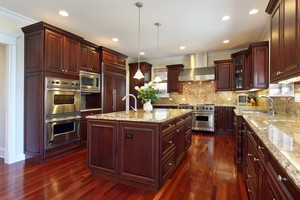 The woodwork in our homes can get overlooked when planning out a painting project. This is likely because it remains sealed for so long that it's easy to overlook.
However, it's important to pay attention to details like the wood finishing in your home. It's much better to keep the wood protected from moisture or drying problems than it is to fix the problem once it starts.
If you are planing a painting project this year, don't forget that the woodwork may need refinishing. If you're not sure whether its' time, the following tips and ideas from the Okoboji painting contractors at Custom Design Coatings LLC may be helpful.
Window Frame Finishing
The woodwork on both the interior and exterior of window frames should be well sealed. Moisture, humidity, and heat transfer through cracks. The woodwork starts to dry out or become mildewed if not protected, which means more repairs and earlier window replacement. Painting or staining and resealing the window frame woodwork should be a priority over painting other areas of the home.
Door Finishing & Painting
Again, the framing and the door itself needs to be well protected from moisture and drying. The front door to your home should be beautiful because it stands out so much. Restaining, sealing, or painting livens the beauty of the exterior and seals it. Whether your door is new or just needs refinishing, be sure you make door finishing a priority.
Garage Door Finishing
The garage door also needs refinishing from time to time. Your doors, garage doors, and windows may be made of aluminum, vinyl, wood, or another material. While some aren't painted or finished, any woodwork on the framing needs to be.
Kitchen Cabinet Finishing & Painting
The cabinets in a home can really dry out given enough time. This is because the finish has worn away. This exposes the wood to things like the heat from the furnace blower or sun through windows, which dries it out.
A nice clear coat finish may be all that's needed to bring back the beauty of the kitchen cabinets. You also have options to restain them or paint them for a brand new design style.
Wood Staining Wood Fireplace Surrounds, Mantels, Trim, Molding
Decks and fences aren't the only surfaces that need a protective finish. Wood staining is done throughout many homes including on fireplace mantels, molding, trimwork, flooring, paneling, and more. Protect these surfaces so the beautiful woodwork investment lasts for years to come.
If you have questions or need Wood Staining & Finishing in Okoboji or Spencer, IA, please call Custom Design Coatings LLC at 712-264-0404 or fill out our online request form.