Emmetsburg Painting Contractors for Commercial & House Painting Services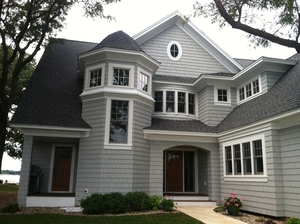 At Custom Design Coatings LLC we offer a variety of painting services applicable for both residential and commercial properties in Emmetsburg, IA. From epoxy flooring to fabulous faux finishes, our Emmetsburg painting contractors can help you cost-effectively transform both the interior and exterior of your property with outstanding results. Our Emmetsburg painting contractors bring a combined 70 years of experience to each and every project, and our expertise for interior and exterior painting is only matched by our dedication to outstanding custom service. Whether you have a small interior painting project or wallpaper removal planned or you are a local business with big commercial painting needs, our Emmetsburg painting contractors are always ready to help! If you need service from a reliable Emmetsburg painting contractor, give Custom Design Coatings LLC a call today, and experience expert quality finishes and true customer service from a team of talented painters that look forward to working for our clients in Emmetsburg, IA.
Emmetsburg Wallpaper Removal
Wallpaper removal can be a time consuming and difficult project to take on. There are many issues that can come up, too, that you may not be able to account for until the project is already started. For example, if your walls were not properly primed before the introduction of wallpaper, you may be in for some very nasty surprises when you peel a bit of the covering off. Poorly applied wallpaper can take your drywall covering or even parts of your drywall itself off with it. To avoid damaging your walls, hire our Emmetsburg wallpaper removal experts to take care of getting rid of that old wallpaper for you. It is crucial that wallpaper removal be done careful and with the proper tools, otherwise you'll create a bigger mess of your walls than what you started with. So let our Emmetsburg wallpaper removal experts take care of it for you, and rest assured you'll have a nicely cleaned wall ready for interior painting when they're done.
Emmetsburg House Painters
The Emmetsburg house painters at Custom Design Coatings LLC offer outstanding results for homeowners throughout the area. From interior painting to exterior painting, wood staining, garage door finishing, window finishing, door finishing, millwork finishing, and basic home repairs, our Emmetsburg house painters love helping homeowners in our service areas improve both the look and quality of the homes they reside in. Let our Emmetsburg house painters help you with your next home improvement project, and see how amazing the results of a fresh coat of paint can be for the interior or exterior design of your house.
Learn more about the painting services Custom Design Coatings LLC, a local Spencer, IA painting contractor, can provide for your home or business in Emmetsburg, IA by contacting us online or by phone today.
If you are looking for a reliable Emmetsburg painting contractor, please call 712-264-0404 or complete our online request form.