Milford Painting Contractor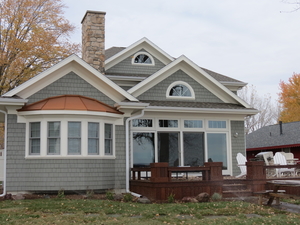 Good Milford painting contractors are hard to find. How do you know that painting contractor in Milford, IA that you hire is a good one? Well, if they are from Custom Design Coatings LLC, you can rest assured you are working with an experienced professional that is qualified to provide both residential and commercial painting services. That's because at Custom Design Coatings LLC we have a stellar reputation to uphold, and we do so by ensuring our clients get only the best. We have a combined 70 years of expertise, and our mission is to always exceed the expectations of our clients, on each and every project, no matter the size. if you want house painting or commercial interior painting, exterior painting, wallpaper removal, epoxy flooring, or home repairs done right, the first time, call Custom Design Coatings LLC today. We are the Milford painting contractor you can trust.
Milford Wallpaper Removal
Are you considering removing wallpaper from your home or office? Think again before you waste your time attempting to do this project on your own. While there are a lot of tutorials out there on the internet for DIY wallpaper removal, most of these end up with frustrated DIY enthusiasts and damaged walls. When the wallpaper removal process is not done correctly, the substrate, sheetrock or the texture of the wall may be damaged. This is why it is a better idea to leave the task up to a professional Milford wallpaper removal contractor, like the experienced ones you'll find at Custom Design Coatings. Our team of Milford wallpaper removal specialists will have that outdated wallpaper removed from your walls in no time – and with no damages.
Milford House Painters
Investing in interior and exterior house painting services from Custom Design Coatings is an easy way to rejuvenate your home. With a house painting project completed by our Milford house painters, it's easy to make a home look like new. Additionally, studies have shown that new painting color schemes, when chosen correctly, can infuse your home with new life, making it a much more enjoyable place to live. You'll do more than impress your family members, friends and guests with interior or exterior painting completed by our Milford house painters. You'll impress yourself! Infuse your home with our own unique style preferences and personality with the help of our Milford house painters. We'll help you come with with a custom color scheme that really speaks to your needs and the mood you want your home to convey.
Milford Faux Finishing
One of the many benefits of hiring our Milford painting contractors to manage your interior painting project is that we can give you a variety of creative options to really make your interior design your own. Our painting contractors have years of experience providing residential and commercial painting services, and have picked up many specialty techniques along the way, such as faux finishing. Our Milford faux finishing services are a great way to take your interior painting project to the next creative level. Our Milford faux finishing specialists can provide you with a one-of-a-kind design and finish that will turn your space into something special. With faux finishes, you can easily change the atmosphere of your home or office in a way like no other interior painting technique can.
To learn more about the painting services Custom Design Coatings LLC, your local Spencer, IA painting contractor, can provide for your home or business, call us or use our online form today to schedule an appointment with one of our painting contractors in Milford, IA.
If you are looking for a reliable Milford painting contractor, please call 712-264-0404 or complete our online request form.